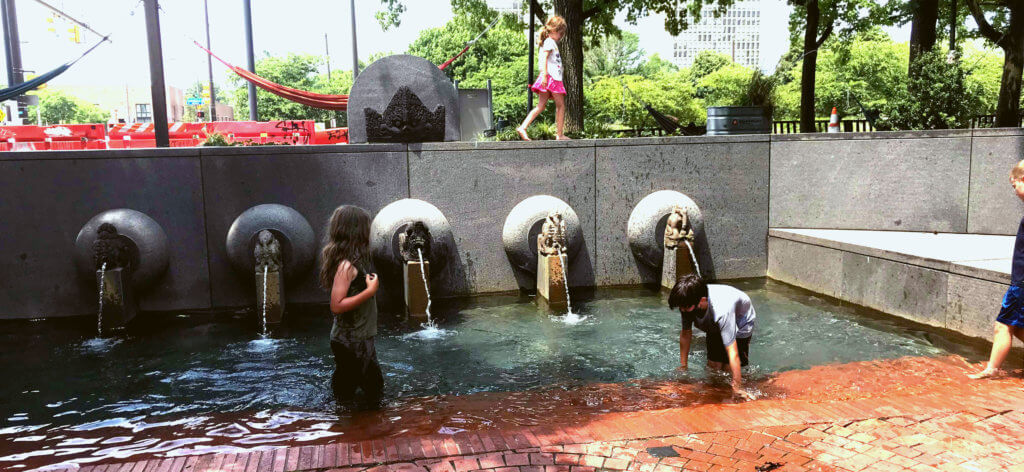 Flying Squads is a youth liberation and anti-oppression collective. We believe in the abolition of divided spaces between young people and the rest of their community. This means that Flying Squads step out of the classroom and off the playground and into public space as a form of youth activism.
Our Program
We provide young people with time to practice making their own decisions in a nurturing community of human connections through which they can develop relationships and work on self-confidence with genuine feedback from peers and society.
Unlike school field trips, the Flying Squads do not have a predetermined destination but instead practice the crucial skills of deciding together where to go and how to spend their time. Each day starts in a public space (typically a library) documenting and reflecting on previous time together in a communal journal. The group then sets out into the world to explore common interests as a collective, experimenting on how to build community and deciding how to voice group concerns on the social justice issue of being youth in a city built for adults.
Even in the most caring of school and homeschooling coop spaces, a definitive line is drawn on where children learn and what space and materials are and are not for them. By intentionally not using a learning space or having predetermined tools and materials, Flying Squad participants learn the important value of abolishing these distinctions as the young people involved interact with the world outside on a regular basis, carving out a space for themselves in their city. And as they do so, they learn perhaps one of life's most important lessons: how to find self-identity while caring for and developing a community with others.
Our Concern for Human Rights
Flying Squads believe in liberation for all people, and we operate on the values of anti-oppression, young people's rights, and community.
We believe that one cannot stand for anti-oppression for young people without standing for anti-oppression for all oppressed and marginalized groups. Liberation is intertwined, and we all must be willing to support and advocate for one another in order to get free.
All of us, especially young people, exist within systems, relationships, caretakers, and communities where oppression affects us. If the adults and elders in the community are not on a path towards liberation, we cannot hope to support our young people on their path to liberation.
Our Values
Young people's rights are respected here. Go here for more on this.
Flying Squads are consent-based. If you are signing up for your child make sure to get their consent and agreement before doing so.
We are committed to intentional and continual anti-oppression work and will not tolerate overt or covert racism and bigotry. Go here for more on the issues of SDE and centering whiteness.
We believe in community, mutual aid, and taking care of one another. These values are reflected in how we work through what we want to do each day, how we address conflict, and how we interact with one another, both within individual Flying Squads, and within our network of facilitators and groups.